The powerful features that will allow your rental business to better prepared for new challenges and changes.
As a car rental owner, you know better than anyone how difficult it can be managing the business during the world pandemic. First, it has changed the way you interact with customers, the way you do service, and even how you make a decision regarding management.
You may even understand that the old way of doing business is almost impossible, like having a paper-based process of rental, receiving only cash. Or, need a way to understand better revenue per day or utilization rate of your fleet.
As always, MyRent is here to help. We've highlighted a list of new and existing features and functionality of MyRent that you might find useful in managing your rental business through these times.
Features that will shift your rental online
If you move your rental online, MyRent has functionality that will help you to make transactions and rental process safe and updated to changes.
Integrate with Online payment gateway to make changes fast, as well as refunds, pre-authorizations, minimizing in-person contact.
Use Digital Signature instead of a paper signature to minimize risk and to give more flexibility to clients.
Use Myrent mobile app to make check-out and check-in from anywhere, as well as mark damages in real-time in the system.
Use OTP signature for the long-term, one-time password that will allow your clients to sign the contract just from email insetting the password they have received on their mobile.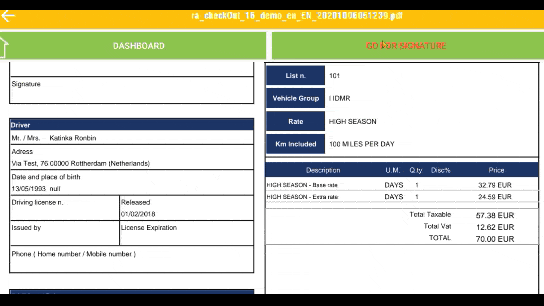 Features to Show Your Clients You Care
COVID-19 significantly hit the tourism industry, this means your clients are experiencing the challenges also. So, it's as important as ever to work with them to understand their needs, so you can continue delivering. Myrent has the features to help.
Customizable Online booking, you can add your touch and customize the customer journey.
You can customize the documents, such as invoices, Rental Agreements, and reservations.
As well as extend the rental agreement directly into the software by the number of days the customer has asked.
Features to Show You Where Your Business Stands
This is not the time to avoid the "elephant in the room" when it comes to the numbers of your business. Managing where every dollar in and out of your business is going is an important way of confronting the challenges caused by COVID-19.
Use Reports to see where your business stands today, so you can plan for tomorrow:

Revenues & Cost Report: A summary of revenue and expenses, so you can see your net worth.
Fleet Utilization Report: A breakdown of each day vehicle business, filter by day and season to estimate high and low seasons.
Vehicle Account Balance: A detailed breakdown of all vehicle's profitability

Import older Reservations, Vehicles, and  Customers you've tracked offline by uploading CSV file to MyRent. This will help give you a more accurate picture of where your business stands.